Fedora Program Manager
The Fedora Program Manager (or FPgM) is the Chief Operating Officer of the Fedora Project. They are employed full-time by Red Hat to manage the planning and release processes for Fedora Linux. This includes schedule management, change wrangling, and providing status reports to the community and to Red Hat.
Current Program Manager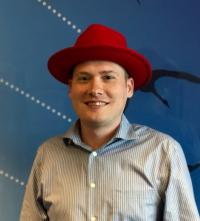 Ben Cotton (pronouns: he/him) became the Fedora Program Manager in June 2018. He joined Red Hat after a decade in high performance computing (HPC) administration and marketing. Ben first started contributing to Fedora in 2009 as a member—and later leader—of the Fedora Docs team. He is an Open Organization Ambassador, and was formerly a Correspondent for Opensource.com. He is the author of Program Management for Open Source Projects.
Contact Ben by email (bcotton@fedoraproject.org).
Roles and Responsibilities
Within the Fedora Project, the Program Manager is primarily responsible for release coordination activities.
Changes Process
Shepharding Change proposals through the Changes process

Tracking the status of Changes during the development/testing cycle
Release Coordination
Coordinating release readiness (within QA, Release Engineering, FESCo, etc.)

Manage the Spins keepalive process

Perform mass updates of bugs at branch and end-of-life time
Elections
Managing elections for Council, FESCo, and Mindshare

Ad-hoc election support for other teams when needed
Miscellaneous
Advise on the processes in the Fedora Project

Provide regular status reports to the community

Coordinate the Prioritized Bugs process

Manage the processes for removing inactive packagers and inactive provenpackagers
History
Previous Fedora Program Managers: