Documentation for a newer release is available.
View Latest
Opening Graphical Applications
Opening graphical applications from the command line
Graphical applications can be launched from a terminal window or console session by simply typing the name of the application.
[fedorauser@localhost]$ 

firefox
File names vs Application names

Programs are opened from the command line using the name of the executable file provided in the program's package. An entry in the desktop menu will often be named differently from the file it executes. For example, the GNOME disk management utility appears in the menu as Disks, and the file it executes is /usr/bin/gnome-disks.
When a program is executed on the command line, the terminal is occupied until the program completes. When a graphical application is executed from the command line, the program's error output, or STDERR, is sent to the terminal window. This can be especially useful when troubleshooting.
Example 1. Viewing errors by launching graphical applications from the command line
[fedorauser@localhost]$ astromenace-wrapper
	AstroMenace 1.3.1 121212

	Open XML file: /home/fedorauser/.config/astromenace/amconfig.xml
	VFS file was opened /usr/share/astromenace/gamedata.vfs

	Vendor     : OpenAL Community
	Renderer   : OpenAL Soft
	Version    : 1.1 ALSOFT 1.15.1
	ALut ver   : 1.1

	Fuente inicializada: DATA/FONT/LiberationMono-Bold.ttf

	Current Video Mode: 3200x1080 32bit

	Xinerama/TwinView detected.
	Screen count: 2
	Screen #0: (0, 0) x (1920, 1080)
	Screen #1: (1920, 0) x (1280, 1024)

	Supported resolutions list:
	640x480 16bit
	640x480 32bit
	640x480 0bit
	768x480 16bit
	<output truncated>
To launch a graphical application, but fork the additional output into the background and return the terminal for immediate use, use the shell's job control feature.
[fedorauser@localhost]$ 

emacs foo.txt &
Ending a session

Applications that hold the command line prompt until they complete will close when the terminal session ends, even if they are forked into the background.
GUI programs can also be launched on one TTY and displayed on another by specifying the DISPLAY variable. This can be useful when running multiple graphical sessions, or for troubleshooting problems with a desktop session.
Switch to another TTY using the key combination Ctrl+Alt+F2 and log in. Note that consoles are available by default with F2 through F6.

Identify the X session you want to target. The DISPLAY variable is always an integer preceded by a colon, and will be :0 in most cases. Check the arguments of the currently running X process to verify the value. The command below shows both the DISPLAY variable as well as the TTY that X is running on, tty1.

[fedorauser@localhost]$ ps aux|grep /usr/bin/X
root      1498  7.1  1.0 521396 353984 tty1    Ss+  00:04  66:34 /usr/bin/X :0 vt1 -background none -nolisten tcp -auth /var/run/kdm/A:0-22Degc

root     23874  0.0  0.0 109184   900 pts/21   S+   15:35   0:00 grep --color=auto /usr/bin/X

Specify the DISPLAY variable when executing the program.

[fedorauser@localhost]$ 

DISPLAY=:0 gnome-shell --replace &

Vuelva al TTY en el que se está ejecutando la sesión gráfica. Dado que el ejemplo anterior muestra que X está corriendo sobre vt1, presionando Ctrl+Alt+F1 volverá al entorno de escritorio.
Lanzando Aplicaciones con Alt+F2
La mayoría de los entornos de escritorio siguen la convención de utilizar la combinación de teclas Alt+F2 para abrir nuevas aplicaciones. Presionando Alt+F2 se muestra un cuadro para introducir un comando.
Los comandos introducidos en este cuadro de diálogo funcionan como si hubieran sido introducidos en un terminal. Las aplicaciones se conocen por su nombre de archivo y pueden aceptar argumentos.
Figure 1. Usando Alt+F2 con GNOME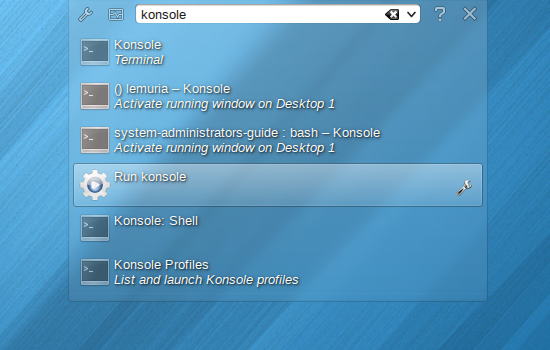 Figure 2. Usar Alt+F2 con KDE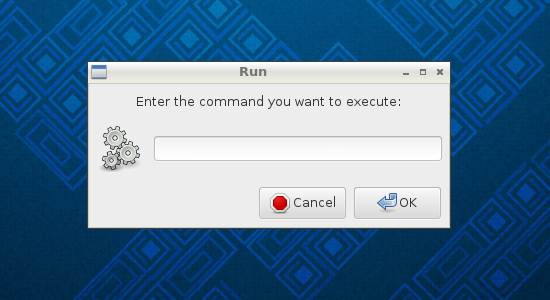 Figure 3. Usar Alt+F2 con LXDE
Figure 4. Usar Alt+F2 con MATE
Figure 5. Usar Alt+F2 con XFCE
Lanzar aplicaciones desde el Menú de Escritorio
Applications can also be opened from the menu system provided by the desktop environment in use. While the presentation may vary between desktop environments, the menu entries and their categories are provided by the individual application and standardized by the freedesktop.org Desktop Menu Specification. Some desktop environments also provide search functionality in their menu system to allow quick and easy access to applications.
Usar menús GNOME
Al menú GNOME, llamado vista general, se puede acceder bien pulsando el botón Actividades en la esquina superior izquierda de la pantalla primaria, moviendo el ratón más allá de la esquina activa superior izquierda o pulsando la tecla Super ( Windows ). La vista general presenta documentos además de aplicaciones.
La mejor forma de seleccionar un elemento del menú es utilizando el cuadro de búsqueda. Simplemente abra la vista general y empiece a teclear el nombre de la aplicación que desea lanzar. Pulsando enter lanzará la aplicación resaltada o puede usar las teclas de flechas o el ratón para elegir una alternativa.
En la vista general también se puede navegar. La barra de la izquierda, llamada guión, muestra las aplicaciones usadas frecuentemente y un icono rejilla. Al pulsar el icono rejilla se trae una rejilla al centro de la ventana con las aplicaciones usadas más frecuentemente. La rejilla mostrará todas las aplicaciones disponibles si se selecciona usando el botón Todo en la parte inferior de la pantalla.
Usar menús KDE
El menú KDE se abre pulsando el botón Fedora en la esquina inferior izquierda de la pantalla. El menú muestra inicialmente las aplicaciones favoritas, que se pueden añadir pulsando con el botón derecho en cualquier entrada del menú. Al pasar el cursor sobre los iconos en la parte inferior del menú se mostrarán las aplicaciones, sistemas de archivos, aplicaciones recientemente usadas u opciones para salir del sistema.
La función de búsqueda también está disponible en el sistema de menús KDE. Para buscar aplicaciones, abra el menú y empiece a teclear. El menú mostrará las entradas que coincidan.