Cómo presentar un error
El propósito de este documento es dar instrucciones paso a paso sobre el llenado de errores en Fedora.
Un error de software no a necesariamente una ruptura del software. Cualquier comportamiento no deseado del software sería rellenado como un error. El mantenedor del paquete puede entonces ver el informe de error y decidir la mejor acción.
| | |
| --- | --- |
| | Cualquiera puede rellenar errores: Se anima a todos los usuarios a archivar cualquier error que aprecien. El relleno de errores no está limitado a los desarrolladores de software. |
Terminología
Hay uno pocos términos que se usan habitualmente en este documento:
Gazapo: Un gazapo es cualquier comportamiento del software inesperado/indeseado.

Rastreador de gazapo: El sistema de rastreo de gazapos de Fedora en https://bugzilla.redhat.com.

Paquete: Cada software disponible en Fedora tiene un nombre de paquete formal que se usa por el rastreador de gazapos y otras herramientas de infraestructura. Los paquetes se pueden buscar usando Fedora dist-git.

Mantenedor: Un cuerpo de voluntario que están al cuidado de los paquetes de software suministrados en Fedora. Son llamados "mantenedores de paquete". Ellos mantienen el rastro de los gazapos, ayudan con cuestiones y generalmente actúan como intermediarios entre los desarrolladores de software y los usuarios de Fedora.

QA: La garantía de calidad es el proceso para asegurar que el software trabaja como está previsto.

Bodhi: La Aplicación Web QA de Fedora.
Antes de rellenar un gazapo
Paso 1: Compruebe la última versión
A medida que se informan y solucionan gazapos, los desarrolladores recogen un conjunto de correcciones y periódicamente lanzan versiones mejoradas de su software. Así que, antes de informar de una cuestión, es útil comprobar si está utilizando la última versión del software. La forma más sencilla de obtener la última versión del software en Fedora es actualizar regularmente su sistema. Los usuarios de Gnome/KDE y otros entornos de escritorio pueden usar sus aplicaciones predeterminadas para hacer esto. stas periódicamente comprueban las actualizaciones y lo notifican a los usuarios. Usted puede hacer uso del administrador de paquetes predeterminado dnf para comprobar y actualizar su sistema. Sólo los usuarios con privilegios de administrador pueden hacerlo así:
$ sudo dnf update --refresh
Step 2: Check for already filed bugs
If you are using the latest version of the software available in Fedora, then it is likely that the bug has either not been reported, or has been reported but a fix has not yet been released. So, it is useful to search the list of already reported bugs before filing a new report. The Fedora Packages Web application lists the currently reported bugs for all packages. There is also a convenient shortcut that can be used.
https://bugz.fedoraproject.org/<package name>
Here, the package name must be the formal name of the package.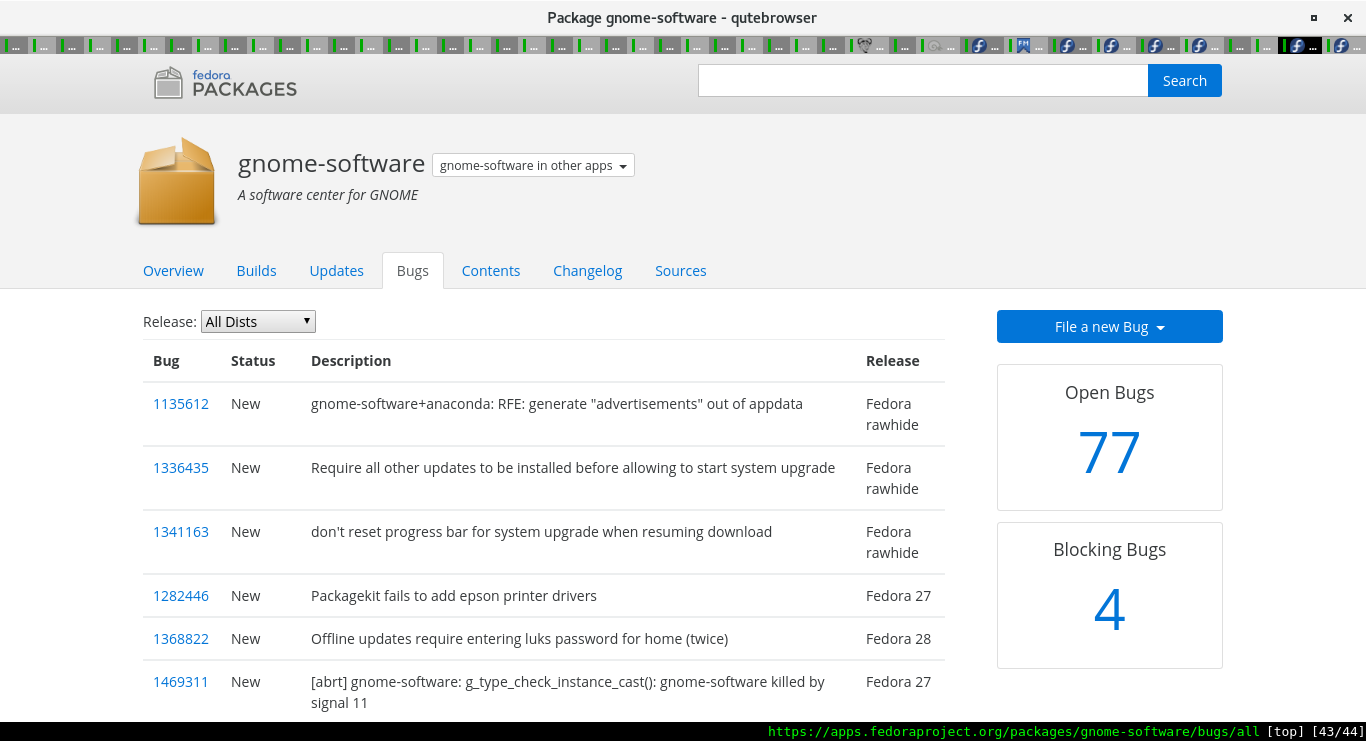 | | |
| --- | --- |
| | Finding the name of the package: If you do not know the formal package name of the software, you can use the Fedora Packages Web Application to search for it and view the list of bugs there. |
Figure 2. Searching the Fedora Packages Web Application for Gnome Software.
If a bug report has already been filed describing the issue, you should provide any extra information you may have. If there is nothing more to add to the report, you should "CC" (carbon-copy) yourself to the report to receive any updates. This can be done by clicking on the "Save changes" button when the "Add me to CC list" option is checked as shown below:
Figure 3. The CC list contains all users that should be notified when any updates are made to the report.
More reading
These are some more resources for those looking to report better bugs by providing more information: