Fedora-ohjelmapäällikkö
Fedora-ohjelmapäällikkö eli eng. Fedora Program Manager (tai FPgM) vastaa Fedoran suunnittelu- ja julkaisuprosessien hallinnasta. Tähän sisältyy aikataulujen hallinta, muutoshaku ja tilaraporttien toimittaminen yhteisölle ja Red Hatille.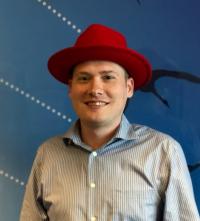 Ben Cotton on nykyinen FPgM. Hän liittyi Red Hatiin vuosikymmenen ajan korkean suorituskyvyn tietojenkäsittelyn (HPC) hallinnossa ja markkinoinnissa. Ben alkoi osallistua Fedoraan ensimmäisen kerran vuonna 2009 Fedora Docs -tiimin jäsenenä ja myöhemmin johtajana. Hän on yhteisövalvoja Opensource.com-sivustossa ja perusti HackLafayette - paikallisen teknisen tapaamisen ryhmän.
Ota yhteyttä Beniin Freenode IRC:lla (bcotton) tai sähköpostitse (bcotton@fedoraproject.org).
Roolit ja vastuut
Fedora-projektissa ohjelmapäällikkö (FPGM) on ensisijaisesti vastuussa näistä:
suunnittelu ja aikataulutus Fedora-julkaisuja

muutosten / ominaisuuksien seuraaminen kehityksen / testaussyklin aikana

koordinaatiojulkaisu (laadunvalvonnassa, releng, FESCo jne.)

prosessit Fedora-hankkeen takana

member of Fedora Council - Auxiliary Seat, Council secretary
Program management SOPs
This SOP (Standard Operating Procedure) section contains a list of common FPGMs tasks.
Talon pitäminen
Aikaisemmin talonpito tapahtui BugZappers-wikissä, mutta koska BugZappers-ryhmä on erotettu useiden vuosien ajan, se siirrettiin FPgM-wikiin.
historia
Aikaisemmat Fedora-ohjelmapäälliköt: