Documentation for a newer release is available.
View Latest
Asennuksen jälkeen
Tässä luvussa kuvataan ensimmäiset asetustyökalut, jotka avautuvat, kun olet suorittanut asennuksen, käynnistänyt järjestelmän uudelleen ja kirjautunut sisään ensimmäisen kerran.
Kaksi erillistä määritystyökalua on osa tuotetta Fedora. Jos asensit GNOME-työpöytäympäristön (oletus Fedora-ympäristö, joka on asennettu esimerkiksi osana Fedora Workstation Edition -versiota), GNOME Initial Setup -apuohjelma avautuu. kaikissa muissa graafisissa ympäristöissä Alkuasetukset -työkalu palvelee samaa tarkoitusta.
Molempien työkalujen avulla voit määrittää käyttäjäkohtaisia asetuksia, joita ei ole määritetty asennuksen aikana. Jotkut asetuksista ovat käytettävissä sekä graafisessa asennusohjelmassa (tai Kickstart-komentoina) että alkuasetusapuohjelmissa; siinä tapauksessa ne näkyvät vain ensimmäisen uudelleenkäynnistyksen jälkeen, jos ohitit ne asennuksen aikana. Tämä tarkoittaa, että jos esimerkiksi määritit käyttäjätilin ennen asennuksen päättymistä, sinua ei kehoteta tekemään niin uudelleen asennuksen päätyttyä.
Alkumääritys
The Initial Setup screen is shown after the installation finishes and the installed system boots for the first time, before the first login, assuming the following conditions have been met:
Your software selection contained a graphical environment (for example, you installed the system using a Fedora Workstation live image).

The graphical environment you have installed is not GNOME Desktop Environment (it provides its own initial setup utility which is described in GNOME Initial Setup).

The initial-setup package has been installed.

You have not configured every screen available in the graphical installer.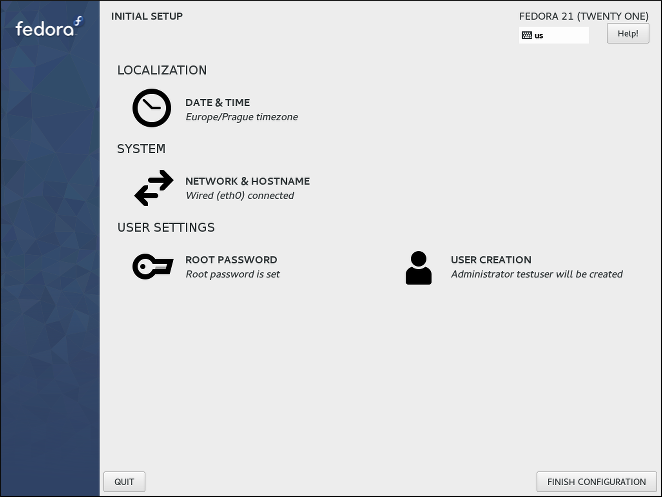 Figure 1. Alkumääritys
Initial Setup allows you to configure several system settings. All of these can also be configured during the installation, but they are not required to finish it. Only the settings which have not been configured during the installation will be shown; for example, if you did not create a non-root user account during the installation, Initial Setup will start after the first reboot, and you will be able to configure one. If you configured all available options during the instalaltion, Initial Setup will not be displayed at all.
To configure any aspect of the system available in the utility, click any of the links available in the main window (for example, Create User). Each link leads to a separate screen with separate options; these screens are the same ones which were available during the graphical installation. If you need help, press Help in the top left corner to open a new window containing directions for that screen.
After you finish configuring any screen, press the Done button in the top left corner to return to the main Initial Setup menu. After you finish configuring all settings, click Finish Configuration in the bottom right corner to save all configured settings. The configuration utility will close and you will be able to log in to the system.
It is possible to configure Initial Setup to display all available options, even if they have been already configured during the installation. To do so, you must use a Kickstart file at the start of the installation, and this file must contain the following command:

firstboot --enable --reconfig
Normally, it is not possible to return to Initial Setup after you close it and log in to the system. You can make it display again (after the next reboot, before a login prompt is displayed), by executing the following command as root:

# systemctl enable initial-setup-graphical.service

Then, reboot your system.
GNOME-alkuasetukset
GNOME Initial Setup -apuohjelma tulee näkyviin, kun kirjaudut sisään ensimmäisen kerran millä tahansa käyttäjätilillä, kunhan ensimmäinen kirjautumisesi tapahtuu GNOME-työpöytäympäristössä.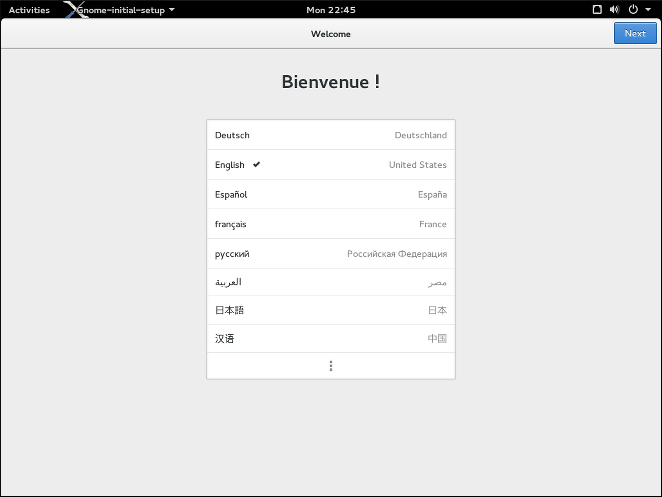 Figure 2. GNOME-alkuasetukset
Tämän apuohjelman avulla voit määrittää useita käyttäjäkohtaisia asetuksia, kuten järjestelmän kielen tai oletusnäppäimistöasettelun. Käytä "Seuraava"- ja "Edellinen"-painikkeita ikkunan yläosassa navigoidaksesi näytöstä toiseen. Jotkut näytöt (erityisesti "Määritä online-tilit") ovat valinnaisia, ja ne voidaan ohittaa käyttämällä "Ohita" -painiketta oikeassa yläkulmassa.
Kun olet määrittänyt kaikki näytöt, sulje apuohjelma napsauttamalla "Aloita Fedoran käyttö". Tämän jälkeen GNOME-ohjeen Aloitussivu tulee näkyviin, ja voit joko selata ohjesisältöä tai sulkea sen ja aloittaa työpöydän käytön.
Yleisiä asennuksen jälkeisiä tehtäviä
Kun olet suorittanut asennuksen ja käynyt läpi jonkin yllä kuvatuista alkuasennuksen apuohjelmista, järjestelmäsi on valmis käytettäväksi. Muut hallinnolliset tehtävät, joita asennusohjelma tai alkuasennuksen apuohjelmat eivät kuitenkaan kata, voivat kuitenkin olla tarpeen, riippuen siitä, miten aiot käyttää järjestelmääsi. Alla olevassa luettelossa kuvataan joitain yleisimmistä tehtävistä, jotka yleensä suoritetaan välittömästi uuden asennuksen jälkeen.
Palauta kadonnut "root"-salasana

"Root"-salasana, joka määritetään asennuksen aikana, tarvitaan pääsyyn järjestelmään "root"-käyttäjänä. Ilman tätä salasanaa et voi määrittää järjestelmääsi tai asentaa lisäohjelmistoja. Jos kadotit tai unohdit "root"-salasanasi, voit nollata sen noudattamalla ohjeita, jotka on kuvattu kohdassa Root-salasanan nollaaminen.

Määritä verkko

Useimmissa tapauksissa verkkoyhteys määritetään asennuksen aikana joko Anaconda-asennusohjelmassa (katso Network & Hostname) tai Kickstart-tiedostossa (katso verkko (valinnainen) - Määritä verkkoliitännät). Lisätietoja verkon määrittämisestä asennuksen jälkeen on Fedora Networking Guide -oppaassa, joka on saatavilla https://docs.fedoraproject.org/.

Suorita ensimmäinen järjestelmäpäivitys

Jos asensit Fedora täydellisestä asennuksen ISO-levykuvasta (kuten Workstationin live-levykuva tai täydellinen palvelin-DVD), on suositeltavaa suorittaa ensimmäinen järjestelmäpäivitys, koska asennusmediasi sisälsi todennäköisesti ohjelmistopakettien vanhempia versioita. Ensimmäisen päivityksen aikana kaikki asennetut paketit päivitetään uusimpiin saatavilla oleviin versioihinsa. Pakettien päivitykset sisältävät tietoturvakorjauksia, virheenkorjauksia ja parannuksia.

The DNF package manager is used for updating installed packages. For more information about updating your system with DNF, see the Fedora System Administrator's Guide, available at http://docs.fedoraproject.org/.

Asenna ohjainpäivitykset

Usually, drivers for system devices are already supported in the kernel provided by Red Hat Enterprise Linux. However, occasionally, support for devices that have been released recently could be missing. In these cases, a driver update enabling your device may be available.

Devices necessary to complete the installation can have driver updates provided before the installation begins. If a device is missing a driver, but it is not essential during the installation, it is recommended to wait until after the installation completes, and install additional drivers afterwards. For instructions on installing and enabling additional drivers on the installed system using RPM and DNF, see the Fedora System Administrator's Guide, available at http://docs.fedoraproject.org/.

Määritä lisää asennuslähteitä

Uusi ohjelmisto asennetaan _asennuslähteestä_Asennuslähteet ovat järjestettyjä ohjelmisto- ja metatietojoukkoja, joita DNF-pakettien hallinta voi käyttää. Oletuksena useat Fedora:n tarjoamat asennuslähteet määritetään automaattisesti, ja voit asentaa päivityksiä ja lisäohjelmistoja niistä. Jos kuitenkin haluat määrittää lisää asennuslähteitä, esimerkiksi sellaisia, jotka sisältävät oman ohjelmistosi, tarvitaan joitain lisävaiheita.

For information about configuring additional software repositories, see the Fedora System Administrator's Guide, available at http://docs.fedoraproject.org/.

Asenna lisäpaketteja

You can control which packages will be installed by selecting an environment in the Software Selection dialog in the graphical installation (see Software Selection). This dialog does not provide a way to choose individual packages, only predefined sets. However, you can use the DNF package manager to install additional packages after the installation. See the Fedora System Administrator's Guide, available at https://docs.fedoraproject.org/, for more information.

Vaihda graafiseen kirjautumiseen

Riippuen asennuksen aikana valitsemistasi vaihtoehdoista, on mahdollista, että järjestelmässäsi ei ole graafista käyttöliittymää, vaan se tarjoaa vain tekstipohjaisen kehotteen. Jos näin on ja haluat ottaa graafisen työpöydän käyttöön asennuksen jälkeen, sinun on asennettava X Window System ja haluamasi työpöytäympäristö (joko GNOME tai KDE) .

As with all other software, these packages can be installed using the DNF package manager. For information about using DNF to install new packages, see the Fedora System Administrator's Guide, available at https://docs.fedoraproject.org/. For information on how to enable graphical login by default, see Booting into a Graphical Environment.