Pengurus Program Fedora
The Fedora Program Manager (or FPgM) is responsible for managing the planning and release processes for Fedora. This includes schedule management, change wrangling, and providing status reports to the community and to Red Hat.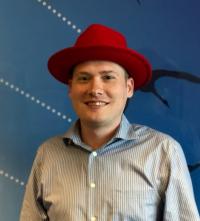 Ben Cotton is the current FPgM. He joined Red Hat after a decade in high performance computing (HPC) administration and marketing. Ben first started contributing to Fedora in 2009 as a member—and later leader—of the Fedora Docs team. He is an Open Organization Ambassador, and was formerly a Correspondent for Opensource.com.
Contact Ben on Libera.Chat IRC (bcotton) or by email (bcotton@fedoraproject.org).
Roles and Responsibilities
Within the Fedora Project, the Program Manager (FPGM) is primarily responsible for:
planning and scheduling of Fedora Linux releases

tracking the changes/features during the development/testing cycle

release coordination (within QA, releng, FESCo, etc.)

managing elections

processes behind Fedora Project

serving as a member of Fedora Council—Auxiliary Seat, Council secretary
History
Previous Fedora Program Managers: