Outreachy
| | |
| --- | --- |
| | Fedora regularly participates as one of the mentoring organizations for Outreachy. |
What is Outreachy

Outreachy is an internship program for people from group underrepresented in free and open source software, including women internationally and underrepresented people of color in the U.S. Our goal is to increase participation in Fedora. Please see the main page with program details for the general information, such as timeline, background information, eligibility, requirements, and the application form.
This page contains answers to the frequently asked questions regarding participating as an Outreachy candidate with Fedora. Please feel free to reach out to us via the mailing list below if you have concerns/questions which are not listed here and for more clarifications. You can also communicate via the IRC channel.
Frequently Asked Questions
Where do I start?
Read the project description on the Outreachy website thoroughly. Make a Fedora Account, join the Outreachy mailing list, Fedora's Outreachy communication channels, and project communication channels. You can introduce yourself on the mailing list or in channel.

How do I make a Fedora Account?
Detailed instructions on creating a Fedora Account found here.

How do I get in touch with the mentor for the project?
Check the project description on the Outreachy website to see details on communication mentors and contact information.

Where should I reach out to should I have questions?
The best places to ask questions you may have are the public project channels and Fedora's Outreachy mailing list. Often you will get an answer faster if you ask on the public communication channels, rather than waiting for a mentor to answer your email. Applicants often have similar questions, so asking them in a public place helps everyone out. For public project channel information check project the project description on the Outreachy website. If you have questions after communicating in these channels, then reach out to the mentor through direct message or email. If you need assistance and have exhausted all other avenues of communication, you can reach out to the Fedora Project Outreachy Coordinators. The coordinators are currently Marie Nordin and Vipul Siddharth.

Where are the announcements related to Outreachy made?
Outreachy related announcements will be published on Fedora's Outreachy mailing list.

What is the review procedure for the project progress?
The review procedure will differ according to the project and mentor.

What is Pagure?
Pagure is our own in-house Git-centered source code management forge. It is incredibly lightweight and based on PyGit2.
FAQ specific to Fedora Design Outreachy projects
How can I get the Fedora logo?
Email logo@fedoraproject.org following the instructions found here and note that you are an Outreachy applicant.

What graphics are okay to use?
The best options are to use graphics made by the Fedora Design Team or original graphics made by yourself.You can use artwork that is licensed Creative Commons(there are a couple variations of this license), but the specifics of the license will apply for each piece of art you use.For example, if it requires attribution, you would need to include their name in the design.

What software do I need to use for the application period?
It is okay to use whatever software you are most comfortable with during the application period.This is not how the Fedora Design Team usually works, this is a special instance so that applicants can show off their developed skillsets.

What software do I need to use if selected for the internship?
You will be required to use free software for the duration of the internship, such as Inkscape and GIMP.Your mentor will help guide you in learning any new pieces of software.

Can I work on the same tickets as other people/applicants?
Yes, absolutely.Collaboration with the Design Team and other applicants is encouraged.

How can I find Fedora design materials to work with?
There are a couple places you can find Fedora design materials.The fedora-design repo on Pagure contains a lot of historical work.There is a dropdown on the left hand side that says "XX Open Issues", click that dropdown and set to "XX Open & Closed Issues" to see a complete list of tickets.You can then search under the "Filter" dropdown.The same applies to the fedora-badges repo on Pagure.

How many tickets should I work on at the same time?

Fedora Design Internship: Please limit yourself to 2 design queue tickets. You can work on a third if it is a Fedora Badges ticket. Although we appreciate the enthusiasm of our applicants, we also only have a certain capacity to provide reviews. This helps to ensure that applicants are receiving reviews equally and at regular intervals.

Fedora Badges Internship: Please limit yourself to 3 badge queue tickets. Once you complete a ticket, you are welcome to take up another.

Some of the source file links on the Design & Pages repo gives me an error. What should I do? This is a known error with Pagure caused by a migration from Trac to Pagure. But, no worries! There is a fix. Files that have that issue will look like this, with two identical comments.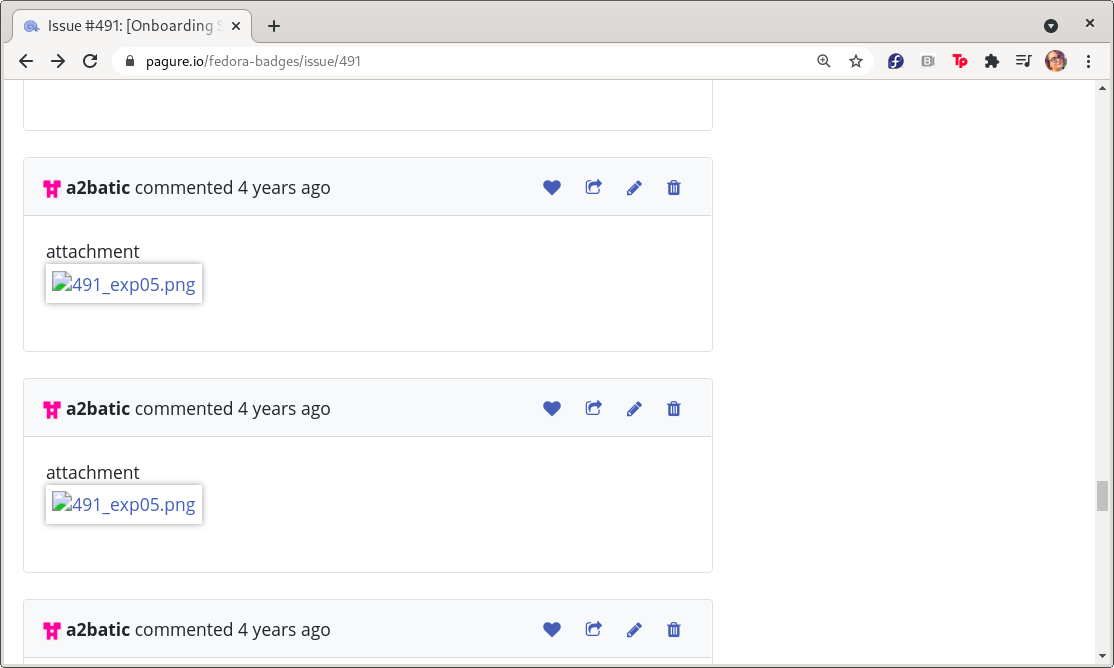 One of the links for the image files will give you the following error page. This link is no longer good.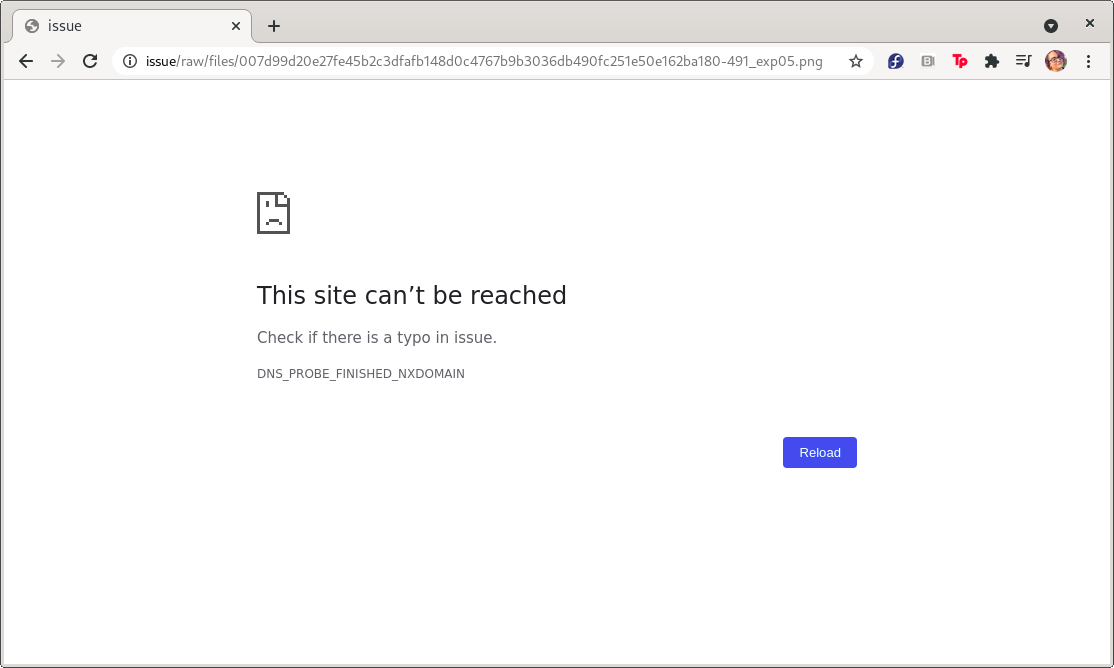 You will see a second comment with another link with the same file name, and it should give you this error page. This is the one we want to work with. Simply remove "files/" from the URL and hit enter.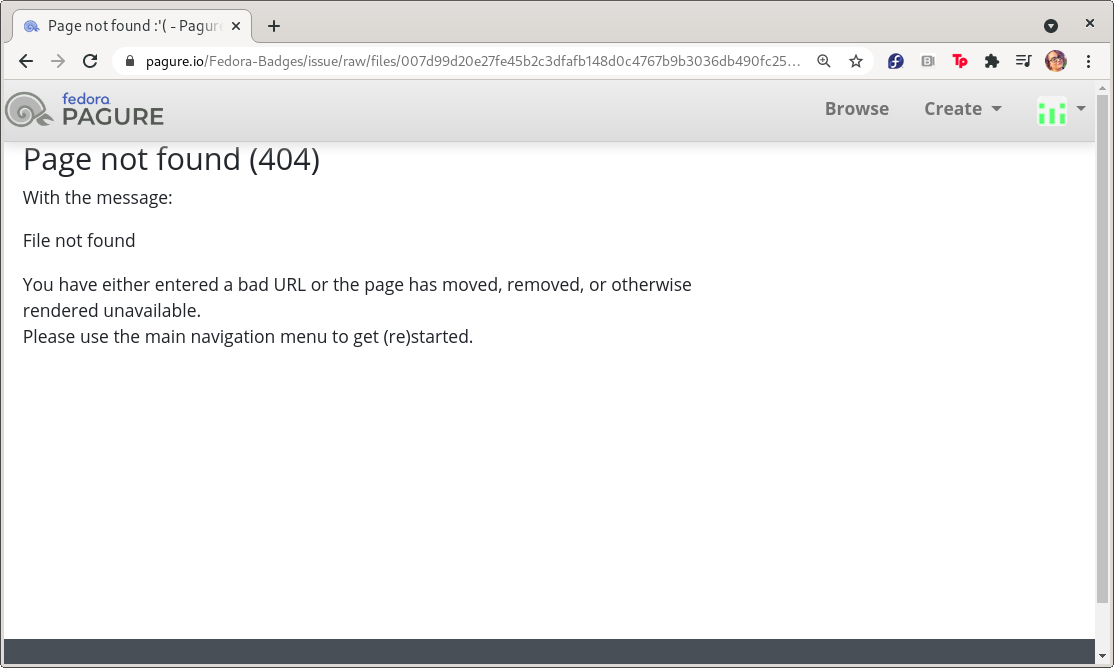 This is what the page should look like, you can right click and "Save".