Como relatar um bug
The purpose of this document is to give step by step instructions on filing bugs in Fedora. For more information about using Bugzilla, see the Bugs section of the Quick Docs.
A software bug does not necessarily need to be a software crash. Any undesired behaviour in software can be filed as a bug. The package maintainer can then look at the bug report and decide the best course of action.
| | |
| --- | --- |
| | Anyone can file bugs: All users are encouraged to file any bugs they run into. Bug filing is not limited to only software developers. |
Terminologia
Existem alguns termos que são comumente usados neste documento:
Bug: Um bug é qualquer comportamento em um software que parece inesperado/indesejado.

Rastreador de bugs: O sistema de rastreamento de bugs do Fedora em https://bugzilla.redhat.com.

Pacote: Cada software que está disponível no Fedora tem um nome de pacote formal que é usado pelo rastreador de bug e outras ferramentas de infraestrutura. Os pacotes podem ser pesquisados usando o Fedora dist-git.

Mantenedor: Um corpo de voluntários que cuidam dos pacotes de software fornecidos no Fedora. Eles são chamados de "mantenedores de pacotes". Eles acompanham os bugs, ajudam com problemas e geralmente agem como intermediários entre os desenvolvedores do software e os usuários do Fedora.

QA: Garantia de qualidade é o processo de garantir que o software funcione conforme o esperado.

Bodhi: O aplicativo web de QA do Fedora.
Antes de relatar um bug
Ask Fedora — the community support forum — is a good place to start if you're not sure if you've encountered a bug. Sometimes what is perceived as a bug is a misunderstanding or a question. The Ask Fedora community can help you figure out if you've encountered a bug — and if it's specific to Fedora or is in the upstream package.
Step 0: Check the Common Issues page
We maintain a list of common issues. Check this site first to see if your issue has been reported — and if a solution exists.
Etapa 1: Verifique a versão mais recente
Conforme os bugs são relatados e corrigidos, os desenvolvedores coletam um conjunto de correções e lançam periodicamente versões aprimoradas de seus softwares. Portanto, antes de relatar um problema, é útil verificar se você está usando a versão mais recente de um software. A maneira mais simples de obter a última versão do software no Fedora é atualizar regularmente o seu sistema. Os usuários do GNOME/KDE e outros ambientes gráficos podem usar seus aplicativos padrão para fazer isso. Eles verificam periodicamente se há atualizações e notificam os usuários. Você também pode usar o gerenciador de pacotes padrão dnf para verificar e atualizar seu sistema. Apenas usuários com privilégios de administrador podem fazer isso:
$ sudo dnf update --refresh
Etapa 2: Verifique se o bug já foi relatado
If you are using the latest version of the software available in Fedora, then it is likely that the bug has either not been reported, or has been reported but a fix has not yet been released. So, it is useful to search the list of already reported bugs before filing a new report. The Fedora Packages Web application provides a link the open bugs for a package. There is also a convenient shortcut that can be used.
https://bugz.fedoraproject.org/<nome do pacote>
Aqui, o nome do pacote deve ser o nome formal do pacote.
| | |
| --- | --- |
| | Finding the name of the package: If you do not know the formal package name of the software, you can use the Fedora Packages Web Application to search for it and view the list of bugs there. |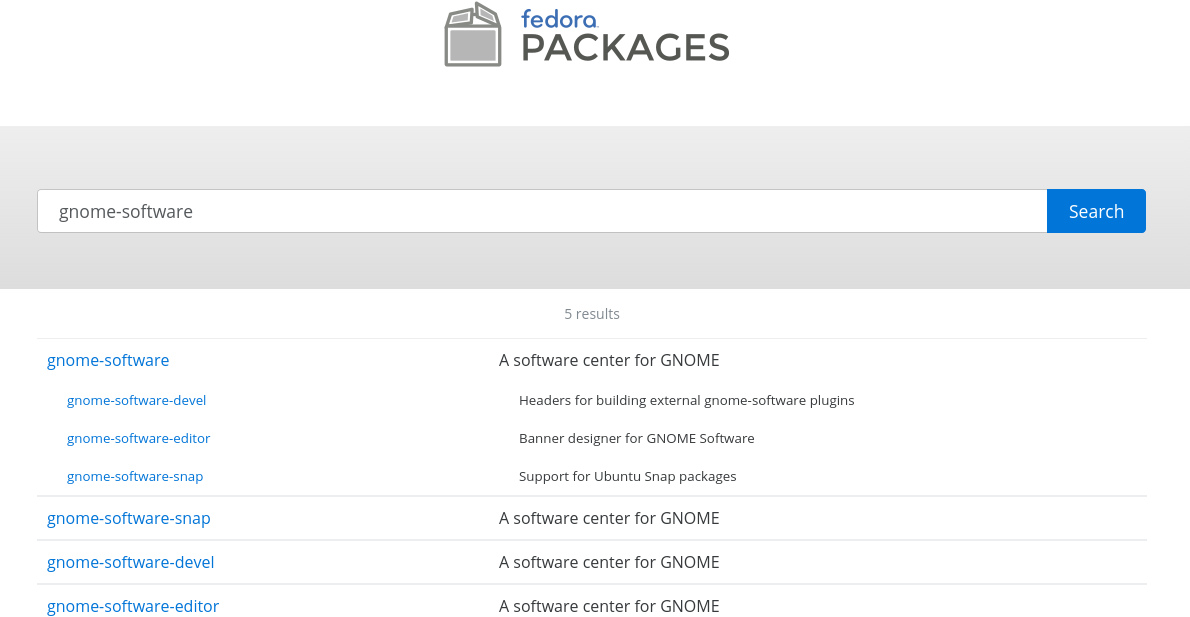 Figura 1. Procurando no aplicativo web Fedora Packages pelo GNOME Software.
Se um relatório de bug já foi preenchido descrevendo o problema, você deve fornecer qualquer informação extra que possa ter. Se não houver mais nada a acrescentar ao relatório, você deve adicionar a si mesmo em "CC" (cópia carbono) no relatório para receber quaisquer atualizações. Isso pode ser feito clicando no botão "Save changes" (salvar alterações) quando a opção "Add me to CC list" (Adicionar-me à lista de CC) estiver marcada, conforme mostrado abaixo:

Figura 2. A lista CC contém todos os usuários que devem ser notificados quando alguma atualização for feita no relatório.
Information required for bugs in specific components
More reading
These are some more resources for those looking to report better bugs by providing more information: