Documentation for a newer release is available.
View Latest
使用 Anaconda 安装
Anaconda 简介
大多数安装程序都遵循固定的路径:你必须先选择语言,然后配置网络,然后再配置安装类型,再进行分区,做完这样才可以做另一样。然而 Fedora 安装程序 - Anaconda 和这些安装程序不一样,它拥有着独特的并行特性。
在 Anaconda 你只需要选择好语言和地区,就会被带到一个中央面板页面,你可以在这个页面以任意的顺序完成你的安装前设定。当然这也不适用于一切情形的,例如网络安装时就必须要配置好网络才可以选定安装的软件包。
有些设置项会根据你的硬件和你的安装介质而被自动设置,你依然可以随时对这些设置项进行手动修改。对于无法自动设置的设置项,我们会提供一个特殊标记来提醒你额外地留意这些选项。在完成这些设置之前你是不能开始系统安装的。
当然了还会有其他的差别,特别注意的是手动分区部分跟其它 Linux 发行版的区别不小,我们在后面再做介绍。
命令行与日志
接下来我们将介绍如何在安装期间访问命令行和日志,这在安装出现问题时会很有用处,当然大部分情况下我们是用不上它们的。
访问命令行
Fedora 安装程序使用 tmux 终端多路复用器以显示和控制多个窗口。每个窗口都有不同的用途,例如显示不同的日志文件以在安装时进行排错处理、使用带有 root 权限的交互式 Shell 等(当然你可以通过引导选项设置和 Kickstart 命令关闭特定的功能)。
| | |
| --- | --- |
| | 通常来说,如果没有排错处理的需要,是没有必要离开默认的图形化安装环境的。 |
终端多路复用器运行于 1 号虚拟终端,你可以使用 Ctrl+Alt+F1 从常规安装环境切换到位于 6 号虚拟终端的 tmux ,要想返回到常规安装环境可以使用 Ctrl+Alt+F6 。
| | |
| --- | --- |
| | 如果你使用的是文字模式的安装, tmux 依然是在 1 号虚拟终端,只是 6 号虚拟终端就是一个 Shell 环境而不是图形界面了。 |
运行 tmux 的终端有五个可用的窗口,我们在下面列举了每个窗口的快捷键和功能。注意快捷键包含两部分,你要首先按下 Ctrl+b ,然后松开这两个键,再按下数字键前往对应的窗口。
你还可以使用 Ctrl+b n 和 Ctrl+b p 切换到下一个或上一个 tmux 窗口。
Table 1. 可用的 tmux 窗口

| 快捷键 | 功能 |
| --- | --- |
| Ctrl+b 1 | 主安装程序窗口,也带有一些调试信息。 |
| Ctrl+b 2 | 带有 root 权限的交互式 Shell。 |
| Ctrl+b 3 | 安装日志 /tmp/anaconda.log 的显示。 |
| Ctrl+b 4 | 存储日志 /tmp/storage.log 的显示,主要是跟内核与系统服务使用到的存储设备相关的一些信息。 |
| Ctrl+b 5 | 程序日志 /tmp/program.log 的显示,主要是其他系统组件的一些消息。 |
屏幕截图储存
You can press Shift+Print Screen at any time during the graphical installation to capture the current screen. These screenshots are saved to /tmp/anaconda-screenshots.
Installing in Text Mode
Text mode installation offers an interactive, non-graphical interface for installing Fedora. This may be useful on systems with no graphical capabilities; however, you should always consider the available alternatives before starting a text-based installation. Text mode is limited in the amount of choices you can make during the installation.
There are two alternatives to text mode which can both be used even if the installation system does not have a graphical display. You can either connect to the installation system using VNC and perform an interactive graphical installation remotely (see Installing Using VNC), or you can create a Kickstart file to perform the installation automatically (see Automating the Installation with Kickstart).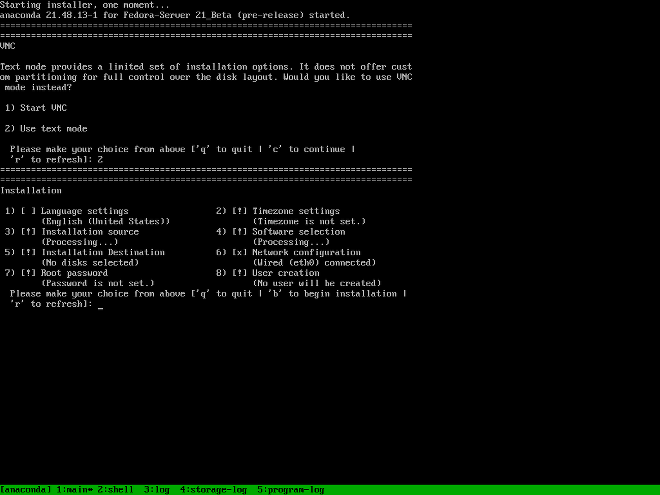 Figure 1. Text Mode Installation
Installation in text mode follows a pattern similar to the graphical installation: There is no single fixed progression; you can configure many settings in any order you want using the main status screen. Screens which have already been configured, either automatically or by you, are marked as [x], and screens which require your attention before the installation can begin are marked with [!]. Available commands are displayed below the list of available options.
Limits of interactive text mode installation include:
The installer will always use the English language and the US English keyboard layout. You can configure your language and keyboard settings, but these settings will only apply to the installed system, not to the installation.

You can not configure any advanced storage methods (LVM, software RAID, FCoE, zFCP and iSCSI).

It is not possible to configure custom partitioning; you must use one of the automatic partitioning settings. You also cannot configure where the boot loader will be installed.
To start a text mode installation, boot the installation with the inst.text boot option used either at the boot command line in the boot menu, or in your PXE server configuration. See Booting the Installation for information about booting and using boot options.