Documentation for a newer release is available.
View Latest
Installing Using Anaconda
This chapter provides step-by-step instructions for installing Fedora using the Anaconda installer. The bulk of this chapter describes installation using the graphical user interface. A text mode is also available for systems with no graphical display, but this mode is limited in certain aspects (for example, custom partitioning is not possible in text mode).
If your system does not have the ability to use the graphical mode, you can:
Use Kickstart to automate the installation as described in Automating the Installation with Kickstart

Perform the graphical installation remotely by connecting to the installation system from another computer with a graphical display using the VNC (Virtual Network Computing) protocol - see Installing Using VNC
Introduction to Anaconda
The Fedora installer, Anaconda, is different from most other operating system installation programs due to its parallel nature. Most installers follow a fixed path: you must choose your language first, then you configure network, then installation type, then partitioning, etc. There is usually only one way to proceed at any given time.
In Anaconda you are only required to select your language and locale first, and then you are presented with a central screen, where you can configure most aspects of the installation in any order you like. This does not apply to all parts of the installation process, however - for example, when installing from a network location, you must configure the network before you can select which packages to install.
Some screens will be automatically configured depending on your hardware and the type of media you used to start the installation. You can still change the detected settings in any screen. Screens which have not been automatically configured, and therefore require your attention before you begin the installation, are marked by an exclamation mark. You can not start the actual installation process before you finish configuring these settings.
Additional differences appear in certain screens; notably the custom partitioning process is very different from other Linux distributions. These differences are described in each screen's subsection.
Consoles and Logging During the Installation
Chestis sezions a descrivin cemût acedi ai regjistris e a une shell interative dilunc la instalazion. Chest al è util par risolvi problemis, ma te plui part dai câs nol sarà necessari.
Acedi aes consoles
L'instaladôr di Fedora al dopre il multiplexer di terminâl tmux par visualizâ e controlâ i diviers barcons che tu puedis doprâ in zonte ae interface principâl. Ognidun di chescj barcons al covente par une divierse finalitât - a visualizin varis regjistris diferents, che tu puedis doprâ par risolvi problemis dilunc la instalazion; un di chei barcons al met a disposizion une shell interative cui privileçs di root, gjavant il câs che cheste shell e sedi stade disabilitade in mût specific te opzion di inviament dal sisteme opûr cuntun comant di Kickstart.
| | |
| --- | --- |
| | In gjenerâl, nol è nissun motîf par lassâ l'ambient grafic di instalazion predefinît, fale che no tu vedis di diagnosticâ un probleme di instalazion. |
Il multiplexer di terminâl al è in esecuzion te console virtuâl 1. Par passâ dal ambient di instalazion atuâl a tmux, frache Ctrl+Alt+F1. Par tornâ indaûr ae interface di instalazion principâl (che e je in esecuzion te console virtuâl 6), frache Ctrl+Alt+F6.
| | |
| --- | --- |
| | Se tu sielzis la instalazion in modalitât testuâl, tu scomençarâs te console virtuâl 1 (tmux), passant ae console 6 tu vierzarâs une shell pes riis di comant invezit di une interface grafiche. |
The console running tmux has 5 available windows; their contents are described in the table below, along with keyboard shortcuts used to access them. Note that the keyboard shortcuts are two-part: first press Ctrl+b, then release both keys, and press the number key for the window you want to use.
You can also use Ctrl+b n and Ctrl+b p to switch to the next or previous tmux window, respectively.
Table 1. Available tmux Windows

| Shortcut | Contents |
| --- | --- |
| Ctrl+b 1 | Main installation program window. Contains text-based prompts (during text mode installation or if you use VNC direct mode), and also some debugging information. |
| Ctrl+b 2 | Interactive shell prompt with root privileges. |
| Ctrl+b 3 | Installation log; displays messages stored in /tmp/anaconda.log. |
| Ctrl+b 4 | Storage log; displays messages related storage devices from kernel and system services, stored in /tmp/storage.log. |
| Ctrl+b 5 | Program log; displays messages from other system utilities, stored in /tmp/program.log. |
Saving Screenshots
You can press Shift+Print Screen at any time during the graphical installation to capture the current screen. These screenshots are saved to /tmp/anaconda-screenshots.
Installing in Text Mode
Text mode installation offers an interactive, non-graphical interface for installing Fedora. This may be useful on systems with no graphical capabilities; however, you should always consider the available alternatives before starting a text-based installation. Text mode is limited in the amount of choices you can make during the installation.
To start a text mode installation, boot the installation with the inst.text boot option used either at the boot command line in the boot menu, or in your PXE server configuration. See Booting the Installation for information about booting and using boot options.
There are two alternatives to text mode which can both be used even if the installation system does not have a graphical display. You can either connect to the installation system using VNC and perform an interactive graphical installation remotely (see Installing Using VNC), or you can create a Kickstart file to perform the installation automatically (see Automating the Installation with Kickstart).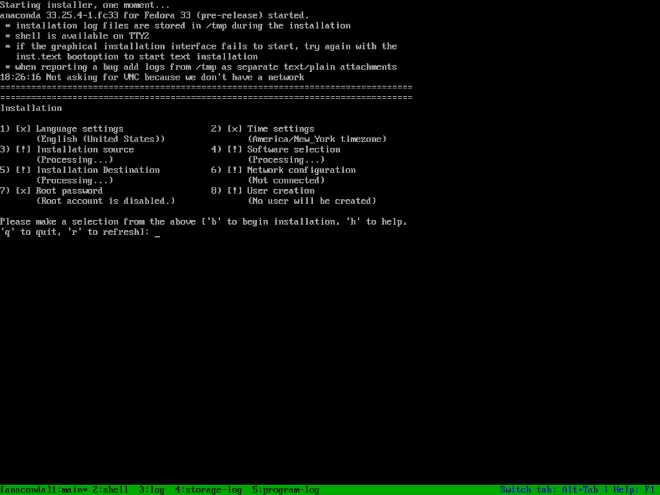 Figure 1. Text Mode Installation
Installation in text mode follows a pattern similar to the graphical installation: There is no single fixed progression; you can configure many settings in any order you want using the main status screen. Screens which have already been configured, either automatically or by you, are marked as [x], and screens which require your attention before the installation can begin are marked with [!]. Available commands are displayed below the list of available options.
Limits of interactive text mode installation include:
The installer will always use the English language and the US English keyboard layout. You can configure your language and keyboard settings, but these settings will only apply to the installed system, not to the installation.

You can not configure any advanced storage methods (LVM, software RAID, FCoE, zFCP and iSCSI).

It is not possible to configure custom partitioning; you must use one of the automatic partitioning settings. You also cannot configure where the boot loader will be installed.