Fedora Join Special Interest Group
The Fedora Join Special Interest Group (SIG) aims to set up and maintain channels that let prospective contributors engage with the community. The idea here is to enable people looking to join the Fedora community to converse with existing members, make friends, find mentors, and get a feeling of what and how the community does in general, with a view to reducing the learning curve that joining a new community entails---and make it more enjoyable!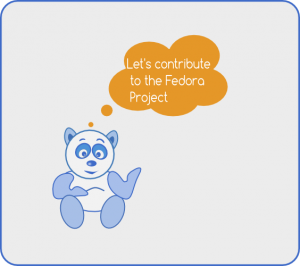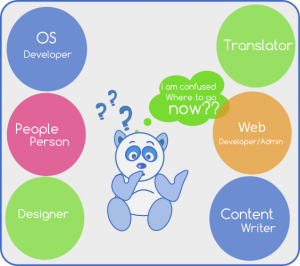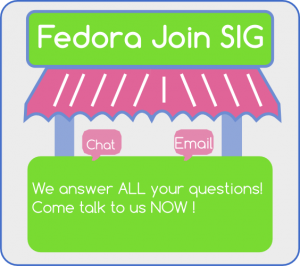 The Fedora Join (SIG) is involved in:
Benvenute e benvenuti nella comunità di Fedora!
We are people from all over the world that come together to develop the various tools, software, and material to promote Free and Open Source Software. Fedora is a massive organisation, and we carry out different roles to keep the community ticking.
Comunica con noi per capire cosa facciamo e come funziona la comunità di Fedora.
Obiettivo
Per entrare a far parte di un SIG, i vari team hanno diverse e spesso ben documentate procedure (SOP, Standard Operating Procedures). Il team infrastructure ne è un grande esempio. Comunque abbiamo spesso a che fare con persone che non sono sicure di come le loro competenze possano essere impiegate nella comunità. Vogliamo fornire a queste persone un canale dove possano dialogare con chi è già membro della comunità, capire cosa fanno e usare questa informazione per trovare il team adatto dove partire. Aiutiamo i nuovi membri a creare relazioni con le altre persone; li indirizziamo verso le risorse opportune (wiki o altro) e ci aspettiamo che questo possa migliorare l'esperienza di entrare a far parte della comunità.
Obiettivi
Creare un canale di comunicazione fra i collaboratori e le collaboratrici attuali e coloro che vogliono diventarlo. Parlare alle persone attualmente impegnate nel team è sempre incoraggiante. Possiamo anche creare un sistema per comunicare sulla mailing list dei compiti semplici (easyfix) dando alle persone la possibilità di lavorarci sopre e imparare facendo qualcosa.

Guidare e assistere chi esprime l'ntenzione di contribuire nel diventare collaboratori e collaboratrici stabili. Anziché indirizzare la gente verso join.fedoraproject.org, possiamo discutere con queste persone, vedere quali difficoltà incontrano, aiutarle a decidere da dove vogliono iniziare.

Creare migliori relazioni mentore-allievo. Qui intendiamo "mentore" nel vero senso della parola.

Fornire ai potenziali collaboratori e alle potenziali collaboratrici un canale di comunicazione dove discutere. Questo è molto importante. Prendete come esempio la mailing list del Google Summer of Code. È stata appositamente creata in modo che i candidati possano parlare fra di loro. Dato che sono tutti sulla stessa barca, si sentono più a loro agio a discutere certe questioni fra di loro. In questo modo saranno anche consapevoli di ciò che le diverse persone stanno facendo, il che darà loro un'idea migliore di ciò che possono fare. Sarebbe bello se potessero discutere e condividere le cose interessanti che hanno iniziato a fare. Sarebbe senza dubbio incoraggiante.
Principalmente, cerchiamo potenziale e non lucidatura. Possiamo aiutarli ad ottenere la lucidatura che hanno i collaboratori di lungo corso.
Comunicazione
We prefer Matrix/Element for synchronous communication. Element provides a web-based application that you can use in your web browser. It also provides desktop and mobile phone applications if you prefer.
The Fedora community has its own Matrix/Element homeserver that one can login to using their Fedora Account. However, you can also access the channel using the default Matrix/Element homeserver where a Fedora Account is not required.
Additionally, we also use the mailing list for asynchronous discussion:
A few other chat tools are also bridged to our Matrix channel:
If you are using IRC for the first time, please take a look at Riot, a free and open source client that connects to various IRC networks. Riot also keeps you connected to IRC even when you're not connected to the Internet.
Membri
In generale, i membri del Fedora-Join SIG dovrebbero essere dei collaboratori e delle collaboratrici con sufficiente esperienza in modo da essere in grado di aiutare i nuovi arrivati. Perciò, come line guida (e non un regola stretta), suggeriamo che:
un membro di questo SIG dovrebbe far parte di altri due gruppi (CLA+2)

dovrebbe essere stato attivo per almeno il precedente ciclo di rilascio

deve essere iscritto alla mailing list
Anche se di solito non abbiamo bisogno di ripulire le iscrizioni al gruppo, lo faremo periodicamente per rimuovere i membri inattivi. Questo sarà fatto raccogliendo da datagrepper i dati sull'attività.
Apri un ticket sulla nostra istanza Pagure per chiedere di entrare a far parte del gruppo. I membri attuali possono essere visti qui sul sito FAS.
Iscrizione temporanea per i nuovi membri della comunità
Forniamo anche un'iscrizione temporanea per i nuovi arrivati, giusto per iniziare a partecipare alle attività della comunità. In questo modo avranno accesso alle parti dell'infrastruttura di Fedora dove è richiesto il CLA+1 (ovvero far parte di almeno un SIG), come il wiki. Questa cosa fa parte del workflow per i nuovi arrivati. Contattaci pure e potremo discutere la tua richiesta.
Compiti
Usiamo Pagure per gestire le attività su cui lavoriamo e le questioni per cui abbiamo bisogno di aiuto. Crea un ticket se hai bisogno di aiuto da parte del team Fedora Join oppure aiutaci a risolvere i ticket esistenti andando sul nostro repository.
Riunioni
Occassionally, the Fedora Join team hosts meetings.
Vai lì ed entra con il tuo FAS Account.
The process is very simple:
Ordine del giorno per la prossima riunione
Appello

Introduzione dei nuovi membri

Comunicazioni relative alla comunità

Attività della settimana scorsa

Nuovi punti

Whatever is needed at that moment

Varie ed eventuali
Organizzare una riunione
Segui il nostro ordine del giorno (vedi sopra) o usa questa guida per qualche consiglio su come tenere una riunione efficace.

Responsabilità del presidente (chair):

Prima della riunione, mandare un promemoria

Dopo la riunione

Mandare i log

Preparare l'ordine del giorno per la prossima riunione
I verbali della riunione vengono salvati su Meetbot.
Ways to get involved
Tenere un blog che parla di Fedora

Mentore

Dare una mano sui ticket

Condividere idee per migliorare questo SIG, e anche Fedora