Membros Atuais do Conselho do Fedora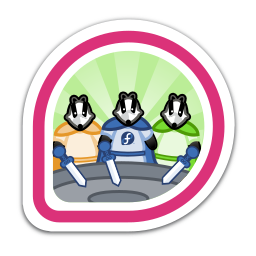 Elected Representative: Tom Callaway (f34-f35)

Representante eleito: Aleksandra Fedorova (f33-f34)

Representante de engenharia: David Cantrell

David has been involved in the Linux community since the 1997. He first worked on Fedora Core starting with Fedora Core 4 in 2005. He worked on the installation software (anaconda) and related projects for more than 10 years. His current projects focus on developer workflow tools. He is a Fedora Ambassador and a member of the Fedora Engineering Steering Committee.

Representante de Mindshare: Eduard Lucena (f33-f34)

Eduard has been involved in Fedora since 2014. He's a Linux user since 2003 and it's been part of different groups in the Fedora community like CommOps, Ambassadors, Join and it's leading the marketing team since 2016. Now he's working in the creation of a new Spin with i3 as environment and he's hosting the Fedora Podcast.

Diversity & Inclusion Advisor: Justin W. Flory

Líder do Projeto Fedora: Matthew Miller

Coordenador de Impacto e Ação da Comunidade do Fedora: Marie Nordin

Gestor do Programa do Fedora: Ben Cotton

Orientação do objetivo:

Adam Šamalík (Minimization)

Entusiasta de código aberto. Engenheiro de <i>software</i> sénior da Red Hat a trabalhar no Fedora. Utilizador do Linux desde 2007, membro da comunidade Fedora desde 2014.

Adam também gosta de automatizar as coisas com <i>scripts</i> de <i>shell</i> horríveis, criando desenho gráfico, editando vídeos, e melhorando constantemente o seu sistema de produtividade pessoal.