Membuka Aplikasi Grafis
Membuka aplikasi grafis dari baris perintah
Aplikasi grafis dapat diluncurkan dari jendela terminal atau sesi konsol hanya dengan mengetikkan nama aplikasi.
[fedorauser@localhost]$ 

firefox
Nama berkas vs Nama aplikasi

Program dibuka dari baris perintah menggunakan nama berkas yang dapat dieksekusi yang disediakan dalam paket program. Entri di menu desktop sering kali diberi nama berbeda dari berkas yang dijalankannya. Misalnya, utilitas manajemen disk GNOME muncul di menu sebagai Disks, dan berkas yang dijalankannya adalah /usr/bin/gnome-disks.
Ketika sebuah program dijalankan pada baris perintah, terminal ditempati sampai program selesai. Ketika aplikasi grafis dijalankan dari baris perintah, keluaran kesalahan program, atau STDERR, dikirim ke jendela terminal. Ini bisa sangat berguna saat memecahkan masalah.
Example 1. Melihat kesalahan dengan meluncurkan aplikasi grafis dari baris perintah
[fedorauser@localhost]$ astromenace-wrapper
	AstroMenace 1.3.1 121212

	Open XML file: /home/fedorauser/.config/astromenace/amconfig.xml
	VFS file was opened /usr/share/astromenace/gamedata.vfs

	Vendor     : OpenAL Community
	Renderer   : OpenAL Soft
	Version    : 1.1 ALSOFT 1.15.1
	ALut ver   : 1.1

	Font initialized: DATA/FONT/LiberationMono-Bold.ttf

	Current Video Mode: 3200x1080 32bit

	Xinerama/TwinView detected.
	Screen count: 2
	Screen #0: (0, 0) x (1920, 1080)
	Screen #1: (1920, 0) x (1280, 1024)

	Supported resolutions list:
	640x480 16bit
	640x480 32bit
	640x480 0bit
	768x480 16bit
	<keluaran dipotong>
Untuk meluncurkan aplikasi grafis, tetapi memasukkan keluaran tambahan ke latar belakang dan mengembalikan terminal untuk segera digunakan, gunakan fitur job control shell.
[fedorauser@localhost]$ 

emacs foo.txt &
Mengakhiri suatu sesi

Applications that hold the command line prompt until they complete will close when the terminal session ends, even if they are forked into the background.
GUI programs can also be launched on one TTY and displayed on another by specifying the DISPLAY variable. This can be useful when running multiple graphical sessions, or for troubleshooting problems with a desktop session.
Switch to another TTY using the key combination Ctrl+Alt+F2 and log in. Note that consoles are available by default with F2 through F6.

Identify the X session you want to target. The DISPLAY variable is always an integer preceded by a colon, and will be :0 in most cases. Check the arguments of the currently running X process to verify the value. The command below shows both the DISPLAY variable as well as the TTY that X is running on, tty1.

[fedorauser@localhost]$ ps aux|grep /usr/bin/X
root      1498  7.1  1.0 521396 353984 tty1    Ss+  00:04  66:34 /usr/bin/X :0 vt1 -background none -nolisten tcp -auth /var/run/kdm/A:0-22Degc

root     23874  0.0  0.0 109184   900 pts/21   S+   15:35   0:00 grep --color=auto /usr/bin/X

Specify the DISPLAY variable when executing the program.

[fedorauser@localhost]$ 

DISPLAY=:0 gnome-shell --replace &

Switch back to the TTY the graphical session is running on. Since the example above shows X running on vt1, pressing Ctrl+Alt+F1 will return to the desktop environment.
Launching Applications with Alt+F2
Most desktop environments follow the convention of using the key combination Alt+F2 for opening new applications. Pressing Alt+F2 brings up a prompt for a command to be entered into.
Commands entered into this dialog box function much as they would if entered in a terminal. Applications are known by their file name, and can accept arguments.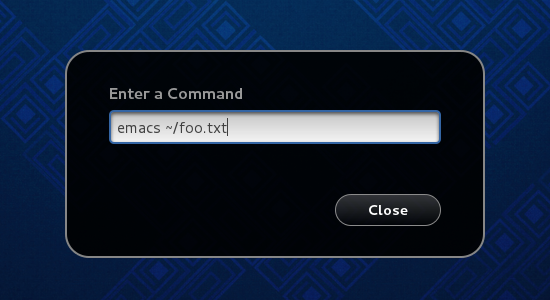 Figure 1. Using Alt+F2 with GNOME
Figure 2. Using Alt+F2 with KDE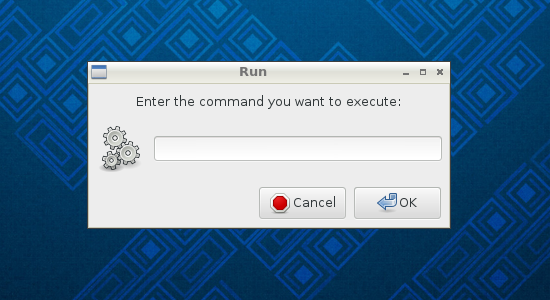 Figure 3. Using Alt+F2 with LXDE
Figure 4. Using Alt+F2 with MATE
Figure 5. Using Alt+F2 with XFCE
Launching applications from the Desktop Menu
Applications can also be opened from the menu system provided by the desktop environment in use. While the presentation may vary between desktop environments, the menu entries and their categories are provided by the individual application and standardized by the freedesktop.org Desktop Menu Specification. Some desktop environments also provide search functionality in their menu system to allow quick and easy access to applications.
Using GNOME menus
The GNOME menu, called the overview, can be accessed by either clicking the Activities button in the top left of the primary display, by moving the mouse past the top left hot corner, or by pressing the Super ( Windows ) key. The overview presents documents in addition to applications.
Selecting an item from the menu is best accomplished using the search box. Simply bring up the overview, and begin typing the name of the application you want to launch. Pressing enter will launch the highlighted application, or you can use the arrow keys or mouse to choose an alternative.
ringkasan juga dapat diramban. Bilah di sebelah kiri, yang disebut dash, menunjukkan aplikasi yang sering digunakan dan ikon kisi. Mengklik ikon kisi akan memunculkan kisi di tengah jendela yang menampilkan aplikasi yang sering digunakan. Kisi akan menampilkan semua aplikasi yang tersedia jika dipilih menggunakan tombol Semua di bagian bawah layar.
Memakai menu KDE
Menu KDE dibuka dengan mengklik tombol Fedora di sudut kiri bawah layar. Menu awalnya menampilkan aplikasi favorit, yang dapat ditambahkan dengan mengklik kanan entri menu apa pun. Mengarahkan kursor ke ikon di bagian bawah menu akan menampilkan aplikasi, sistem berkas, aplikasi yang baru saja digunakan, atau opsi untuk keluar dari sistem.
Fungsi pencarian juga tersedia di sistem menu KDE. Untuk mencari aplikasi, buka menu dan mulailah mengetik. Menu akan menampilkan entri yang cocok.