Le leader du projet Fedora
Le leader du projet Fedora (ou Fedora Project Leader/FPL) est responsable en dernier ressort de tout ce qui arrive à l'intérieur de Fedora et est en particulier responsable du maintien de la relation de Red Hat avec Fedora et vice versa.
Il ou elle est le Président de Fedora, le PDG, le président du conseil d'administration, le chef sans peur, ou n'importe quel titre que vous souhaiterez lui donner.
Cependant, le leader du projet n'est pas un dictateur, bienveillant ou non.
Le leader du projet Fedora préside de conseil.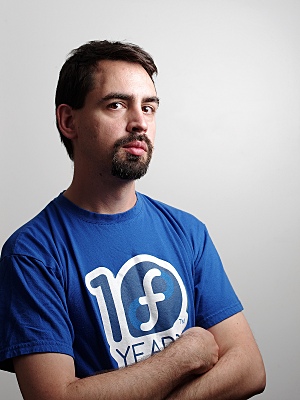 Matthew Miller is the current Fedora Project Leader. He led the Fedora.next initiative for a strategic approach to Fedora's second decade, as well as the transition from the Fedora Board to the current Council governance model. Matthew created the BU Linux distribution for Boston University in 1999 and maintained that through 2008, when he moved to the Harvard School of Engineering and Applied Sciences to work on high performance computing and this up-and-coming "cloud" thing. He has been at Red Hat since 2012, first working on Fedora Cloud and becoming FPL in June, 2014.
Previous Fedora Project Leaders
February 2012 – June 2014 (Fedora 17 – 21)

July 2010 – February 2012 (Fedora 14 – 16)

February 2008 – July 2010 (Fedora 9 – 14)

February 2006 – February 2008 (Fedora Core 5 – Fedora 9)

August 2005 – February 2006 (Fedora Core 4 & 5)

Cristian Gafton

January 2004 – August 2005 (Fedora Core 2, 3, & 4)

Michael Johnson

July 2003 – January 2004 (Fedora Core 1)